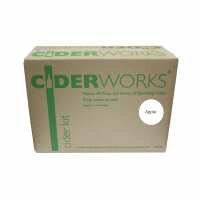 Ciderworks Superior Apple Cider Kit | Now comes with a massive 2.4 Kilos of The finest Apple Juice, this is the UK's Best Cider Kit without exception.
Makes 40 pints of deliciously refreshing Apple Cider. Brilliant either barrelled or bottled.

The wonderfully fresh apple aroma will blow your mind, only to be bested by the crisp taste. The separate sachet of sweetener allows you to obtain the exact level of sweetness for your palate.
The first complete kit of its kind on the market. Only water to add. Brewing sugar, finings and priming sugar are all included with the juice.
Contents:

Concentrated Apple Juice
Glucose Powder
Cider Flavouring
Cider Yeast
Priming Sugar
Sweetener

Everyone of our cider varieties has been made with only the best quality and best freshest fruit which is then pressed and concentrated using our state of the art evaporators, and then cold filled into a pouch. Our aim is to ensures we preserve all the natural flavours of the fruit, giving you cider which is fresh, crisp and especially good.

Kit Details:

Makes: 40 Pints
Net Weight: 3.4kg
Nothing to add except water

NOTE: Equipment for fermentation/brewing and storage/dispensing is not included and should be bought separately.
About Love Brewing:
Whether you are making, wine, beer, cider, or spirits & liqueurs, we have everything you need to get the best possible results. From our top-rated Wineworks, Beerworks and Ciderworks Kits, to the full range of Still Spirits flavourings, yeasts and equipment, we have the right kits and equipment for you, whatever your interest and experience.
Visit Product Page