"

Looking at my new X Cross I was feeling slightly daunted, there couldn't have been more of a contrast with my pink sit up and ride, 6 gears, basket on the front bike! No looking back - with the first few pedal turns I was amazed at how comfortable it felt and so easy to ride. I had only intended to have a little round the block try out but the gears and the electric assist were so simple to use (dinner can wait!) I ended up cycling around 5 miles it was so enjoyable. On my next outing I set off without the assist mindful that I may have to cycle without it and found the bike was not at all heavy and I had to check that the assist was actually off! The first charge reached 54 miles before the battery was flashing at the lowest level. Having tested the assist on many North Norfolk hilly routes I had expected it to run low a lot earlier. The X Cross, would definitely recommend, a great looking e bike, excellent to ride it encourages you to cycle further than your original destination and you get a real feel good factor when riding this bike it makes you smile biking up hills! Thank You Mark2!

"
"

Really well designed bike. Well made. I particularly like the fact that the lights are controlled from the handlebars and powered by the battery - it makes so much sense. Otherwise the bike is quite a lot lighter than many e-bikes on the market. It's also well balanced on the stand - too many bikes fall over far too easily when propped. I have only had it a few days, but have tried progressively longer trips to see what the range is like - so far, so good - and I would say the minimum distance the battery can help you will be around 30-35 miles. Putting in more significantly increases this. Well done Mark2 - this is a product of which you should be proud.

"
"

I have finally had a chance to road test my new X Cross and I'm absolutely over the moon with the bike. The handlebars and riding position make it a joy to ride and it's so comfortable. I really like the look of the bike and appreciate that it doesn't look like a typical electric bike, not heavy or over engineered. It's light enough to use as an ordinary road bike, so I can still maintain my fitness level, gut it's really great when the going gets tough,. It has enabled me to be more adventurous and extends my range. I am 75 years old, and it's given me a new lease of life.

"
"

We bought two X-Cross ebikes from Mark2 for use with our motorhome. Really pleased with them, they are comfortable and easy to ride with an excellent range. They are also happy on and off tarmac and we have had lots of positive comments on their look and some did not realise they were ebikes as the battery is partially in the down tube. We had excellent service from infomation through to delivery.

"
"

Cycling for pleasure or longer distances, the Mark 2 is a real pleasure, not only can I enjoy the UK & European hills with my mad cyclist husband but annoy him as I glide past. We have tested it well for its 60mile range, even up and down the Horseshoe Pass, Wales, or the Shropshire hills e.g. the Burway at Church Stretton - a serious gradient! I had Road tested a dozen bikes before settling for the Mark 2, I've made a great choice and would highly recommend it. Two of our Motorhome buddies were so impressed they both bought one too!

"
"

There were absolutely no problems with the process of buying our bikes. Phone calls and emails were answered promptly and the bikes were delivered within days. The bikes are absolutely fantastic. The quality is excellent and aftersales service is superb. We cannot recommend Mark 2 enough.

"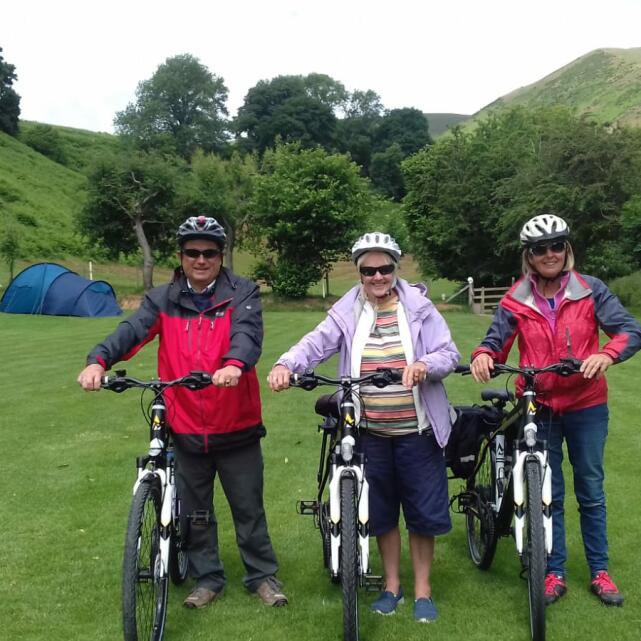 "

We had a test ride at the Peterborough Motorhome Show on both versions of the E;Bikes on the Mark 2 stand. As the road bike sits a bit higher my wife was more comfortable on the scrambler version so we opted for 2 scramblers which we have had long enough to form a proper opinion of now. Delivery was quick and efficient and assembly minimal and once the batteries were charged we were off. The bikes ride really well and the power assistance comes in in a nice controlled manner so you get going easily, but the true beauty of these bikes shows on the hills. My wife would usually get off and walk her old bike up hills but not anymore, the help you get is like someone pushing you up the hill but you still get the exercise as you have to pedal. Off road at Rutland Water cycle track we could get a feel for handling on rougher surfaces and the big tyres grip well in all we went through. Controls all fall to hand easily and gears and brakes are great as are the bearings going downhill . To sum up the bikes look good (not weird like some e-bikes look) and ride well and the power you get makes cycling fun again. Take a test ride because if you have ever considered an e-bike you need to consider the Mark 2 e-bikes.

"
MARK 2
is rated
5.00
based on
8
reviews