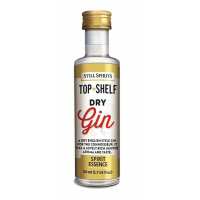 This is one of the very best dry gin essences on the market.

Makes 3 x 75cl bottles (2.25L)

Take 2.25l of 40% ABV alcohol and add bottle of flavouring, mix well and store or serve.

If you want to make less than the full amount, then simply measure out the required dosage from the 50ml bottle using one of our syringes and mix.
Gluten Free
About Love Brewing:
Whether you are making, wine, beer, cider, or spirits & liqueurs, we have everything you need to get the best possible results. From our top-rated Wineworks, Beerworks and Ciderworks Kits, to the full range of Still Spirits flavourings, yeasts and equipment, we have the right kits and equipment for you, whatever your interest and experience.
Visit Product Page