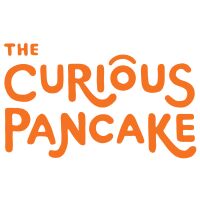 Sweary Graphite Pencil Set (New and improved for 2019!) by Claire Senior
Featuring:

6 x 2B graphite, round barrel, sharpened pencils
an awesome 100% cardboard case to display the profanity
an inspirational quote on the reverse about swearing from Coleman Young which says "Swearing is an art form. You can express yourself much more exactly, much more succinctly with properly used curse words."
6 phrases to delight and disgust

Know any assfaces or twattington arsecandles? Have a colleague or loved one who adores profanity? Want to stop people nicking your pencils? The Sweary Pencil Set is the answer to this and many more questions you never thought to ask!
A percentage of each sale of our Sweary Pencil Sets goes towards restoring the Caledonian Forest as part of the Trees for Life project. See our grove as it grows. Our pencil packaging is 100% recyclable & plastic-free.

As seen on Buzzfeed!
About The Curious Pancake:
The Curious Pancake is home to a carefully curated collection of illustrated greeting cards, gifts and stationery created by our creative crowd of illustrators, artists and designers from the UK, the US and other parts of Planet Earth.
Visit Product Page
Phone:
0115 952 2632
Email:
hello@thecuriouspancake.co.uk
Location:
3 Olympia Way Hucknall Nottingham NG15 8HT, ,