Sort by: Most Recent Filter: None
"

Excellent from start to finish. Motor home was in A1 condition, and a special mention must go to Darrel who was also excellent in explaining all features of the motor home, and was keen to point out that no matter what time, if we had a problem, he was always on the end of the phone. Price was very reasonable too. Thanks again, and will definitely be using Life's an adventure again. Dan

"
Visit Website
"

From start to finish our experience was great.we hired a great motorhome that catered for our every need.during our road trip it was put through its paces and performed excellently.everythng about the motorhome was clearly explained by Darrel which great.corresponding with Sarah from firstly making the booking to completing the booking was fab.would never take too long getting back to you with information you needed.i would definitely consider using lifesanadventure again in the future :) happy motorhoming

"
"

We were 2 adults 2 children and a dog. We looked at a few motorhomes to hire which were good for dogs also. We found lifesanadventure and there were no extra charges unlike many others for pets and was very competitively priced. Motorhome itself was stunning and clean and a friendly arrival. Not local to us but was definitely worth it. Would recommend to anyone thinking of hiring a motorhome and we would/will for sure use again. Good honest company. Thanks again.

"
Thank you for your review! Great to hear you enjoyed your time away and we hope to see you all again in the future :)

Life's an Adventure
Posted 1 week ago
"

This is the first time we experienced a motor home, and the customer service was excellent. Everything was explained on collection, and the team were on the other end of a phone if you needed anything. Really well equipped vehicle, with everything you need, and CLEAN.

"
"

Our experience hiring a motorhome with "Life's an Adventure" From our very first enquiry to our final farewell, our experience with Life's an Adventure has been faultless. The hiring process: We knew from research which motorhome we wanted, so googled it and Life's an Adventure popped up first. We were not new to hiring and had plenty of other companies to compare them with. We visited their website and were immediately impressed with its user-friendly design and crisp video tour. We picked up the phone there and then. The owner, Darrel, emailed us that evening with a quote and summary of what would be included for the price. It was an easy decision to go with Life's an Adventure, as their polite and professional manner shone through each communication. Every email you receive is necessary, succinct and relevant. Collection: Darrel gives you several options for collection; we chose to collect from their depot at Carrington. Again, absolutely first-class service – the demonstration and handover were perfect, as Darrel covered everything. Our holiday: We took the motorhome on a 4,000 mile round trip to southern Spain and back. It handled well and we had a fabulous time. The company is available on WhatsApp to offer support throughout your trip, so we kept in contact sending photos and asking the odd question. Darrel always responded quickly, which was very reassuring. The return: We wanted to hand back the motorhome a couple of hours later than was stated to avoid rush-hour traffic. This was happily accommodated by Darrel, and four days later our holding bond of £750 was returned. Summary: Would we use Life's an Adventure again? Absolutely. Would we recommend them? Absolutely. Is there a nicer person to deal with than Darrel Whalley? No!

"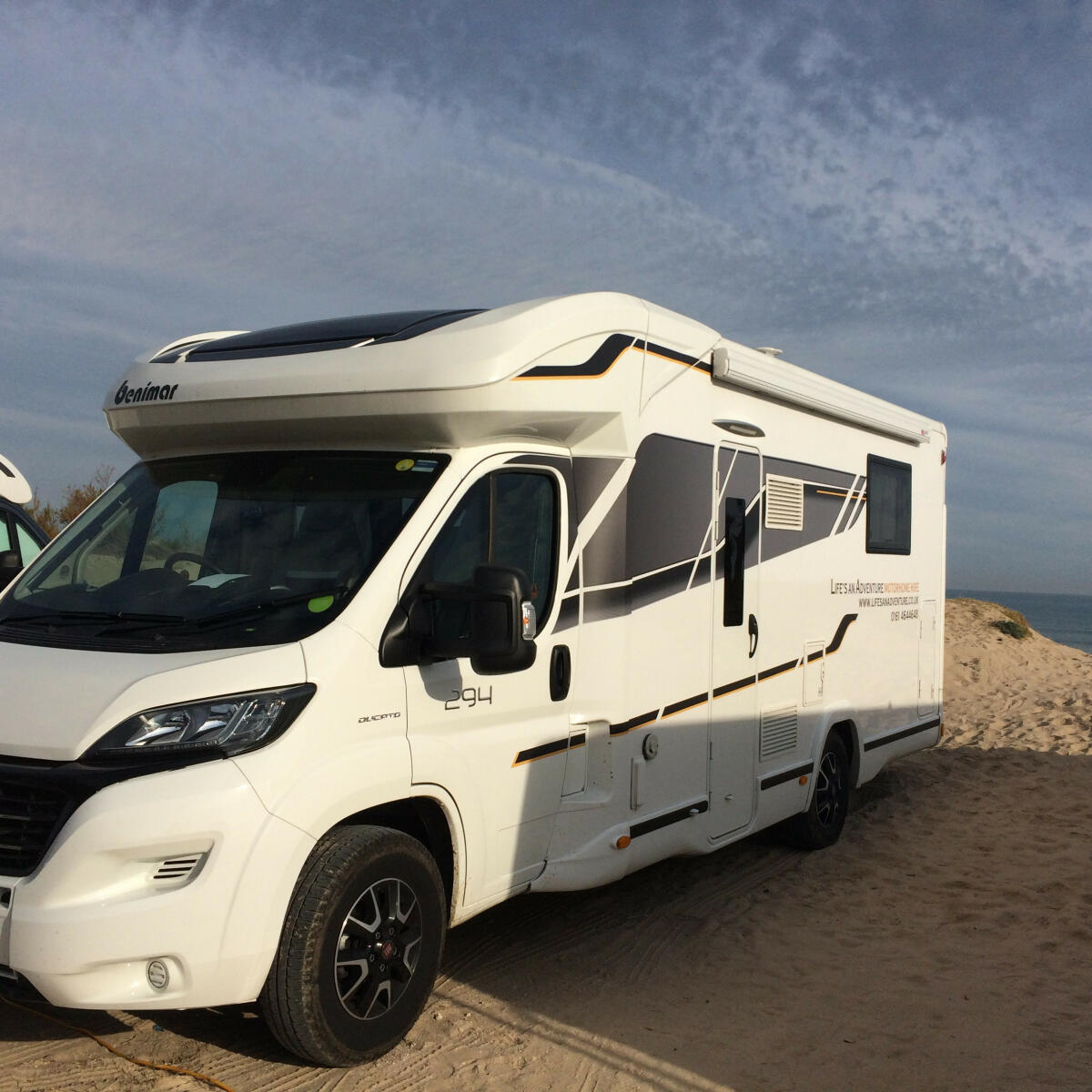 I am humbled by your comments and thank you for taking the time to post your review. It has been a great pleasure to share snippets of your clearly amazing adventure, as jealous as it may of made us. I certainly hope to see you both again for another Motorhome Hire Adventure!

Kind Regards.
Darrel & Sarah
Life's an Adventure Motorhome & Campervan Hire
Posted 2 months ago
"

Had a great few days away in the motor home, hand over was given in every day language, loads of good info and tips, everything was explained, very friendly and helpful, the motor home was like new, extremely well equipped, everything had been thought off, a full tank of fuel, legal stuff signed and I was off.

"
Thank you for your Life's an Adventure 5 star review! It was a pleasure to meet you and I hope we can help for any future Motorhome Hire (even if its for Motorhome buyers advice ;) All the best for 2018
Posted 3 months ago