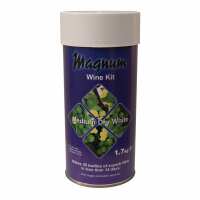 A light medium dry white best served cold.

Designed to produce 30 bottles of a light style wine in 14 days. Requires the addition of 3.5kg of Sugar.


Requires 3.5kg of sugar.
Makes 30 Bottles.
Ready in 14 days.

About Love Brewing:
Whether you are making, wine, beer, cider, or spirits & liqueurs, we have everything you need to get the best possible results. From our top-rated Wineworks, Beerworks and Ciderworks Kits, to the full range of Still Spirits flavourings, yeasts and equipment, we have the right kits and equipment for you, whatever your interest and experience.
Visit Product Page