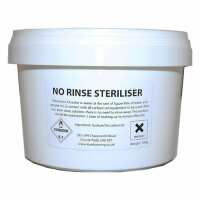 Ideal for sterilising your brewing equipment. It won't however act as a cleaner (use our Cleaner/Steriliser for this).
Instructions for use
Dissolve in water at the rate of 5g per 1 litre of water and ensure it is in contact with all surfaces of the equipment to be used. After use pour away solution, there is no need to rinse. The sterilising solution should be used within I hour of making up to remain effective.
Ingredients
Sodium Percarbonate.
About Love Brewing:
Whether you are making, wine, beer, cider, or spirits & liqueurs, we have everything you need to get the best possible results. From our top-rated Wineworks, Beerworks and Ciderworks Kits, to the full range of Still Spirits flavourings, yeasts and equipment, we have the right kits and equipment for you, whatever your interest and experience.
Visit Product Page