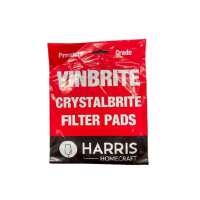 These go with the Vinbrite filter and will polish 30 bottles of wine (provided the wine is clear before use).


CRYSTALBRITE FILTER PADSFILTABRITE FILTER PADSMinimum Pore Size1.14 microns2.2 micronsMaximum Pore Size5.23 microns3.5 micronsMean Pore Size1.74 microns2.5 microns The Prime Pads do not have a micron rating as they are not designed to clear a wine.
About Love Brewing:
Whether you are making, wine, beer, cider, or spirits & liqueurs, we have everything you need to get the best possible results. From our top-rated Wineworks, Beerworks and Ciderworks Kits, to the full range of Still Spirits flavourings, yeasts and equipment, we have the right kits and equipment for you, whatever your interest and experience.
Visit Product Page