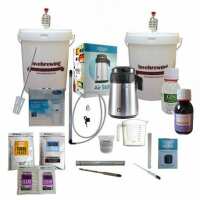 All you need (except brewing sugar - see here) to get started making fantastic spirits & liqueurs (see our UK Disclaimer Page). You will not find a better value for money kit anywhere. If you bought the components of this kit seperately, it would cost you £240!
This will make 10 x 75cl bottles of 40% ABV liquor. Once the starter pack has been purchased each additional batch will cost approx £2.30 a bottle.
Now comes with the unique Still Spirits collector/filter to produce the finest quality alcohol.
Equipment Included

1 x Air Still
2 x 30 Litre Food Grade Plastic Buckets with Lids & Grommets and airlocks
1 x Mixing Paddle or Spoon
1 x Hydrometer with Trial Case. (Case can be used to hold liquid, so the hydrometer can then be dropped in to take a reading).
1 x Thermometer
1 x Extendable Luxury Siphon with anti sediment end, tap end and bucket clip (for transferring the liquor to other containers and bottling)
1 x Jug (Very useful for mixing Spirits & Liqueurs).
1 x Spirit Hydrometer (For testing the amount of Alcohol by Volume (ABV).
1 x DVD on making your own Wine, Beer & Spirit
1 x Air Still Collector

Consumables

1 x Pure Turbo Yeast
1 x Turbo Clear
1 x Carbon
1 x Classic Whisky (sachet)
1 x Classic Brandy (sachet)
1 x Classic Gin (sachet)
1 x Classic White Rum (sachet)
1 x Pack of 5 Carbon disc filter cartridges for spirit collector.
1 x Distillers Conditioner
1 x Pack of Ceramic Boil Enhancers
1 x Steriliser (100g)

Air Still
This comes complete with a full set of instructions which will tell you how to make distilled water, use the still for essential oil extraction, fuel ethanol, and alcohol distillation.
Included in the box will be a bottle of distillers conditioner (should be used each time you run the still), and ceramic saddles (to prevent surge boiling of the liquid).
You will also have the collection and filtration system (3 containers packed inside the body of the still), and some spare carbon cartridges.
Full instructions (you will receive a printed copy with your starter kit) are also available on the site.
Which is best: The Air Still or the T500 still?
We've created a quick guide that compares the benefits of the T500 Still and the Air Still so you can decide which is the best for you.
Still Dimensions
The still is approximately 370mm high, with the diameter at the widest point being 235mm.
The boil chamber has internal dimensions of 190mm in diameter by 200mm deep.
Specification
Power usage: 340W
Further Information
Extracting Essential Oils: The Air Still can also be used for the creation of Essential Oils. If you would like to learn more please see the 'Guides & Videos' above.
Distillation: For information regarding the distillation of alcohol using this still in the UK please see our UK Disclaimer Page.
Note: You'll find the 'Distillers Conditioner' packed inside the Air Still Filter Collector.
About Love Brewing:
Whether you are making, wine, beer, cider, or spirits & liqueurs, we have everything you need to get the best possible results. From our top-rated Wineworks, Beerworks and Ciderworks Kits, to the full range of Still Spirits flavourings, yeasts and equipment, we have the right kits and equipment for you, whatever your interest and experience.
Visit Product Page