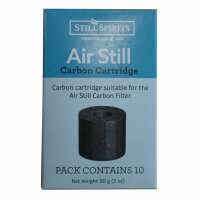 For use with the new Air Still two part collector system. It screws into the filter. This should be changed each time a batch of alcohol or water is put through the still.

It's best to activate the cartridge by running hot water over it for 45 seconds immediately before use (or better still, soak it in a cup of hot water for 20 minutes).

These activated carbons are designed to absorb any unwanted by-products from your spirit, ensuring your alcohol will taste as fresh and clean as possible. Pack contains 10 cartridges.

Each cartridge is suitable to filter up to 1125ml of distilled spirit or grain alcohol. Change after each use.

Don't worry if it takes ages to run through. The longer it takes (6 hours is average), the cleaner the finished spirit will be.
About Love Brewing:
Whether you are making, wine, beer, cider, or spirits & liqueurs, we have everything you need to get the best possible results. From our top-rated Wineworks, Beerworks and Ciderworks Kits, to the full range of Still Spirits flavourings, yeasts and equipment, we have the right kits and equipment for you, whatever your interest and experience.
Visit Product Page