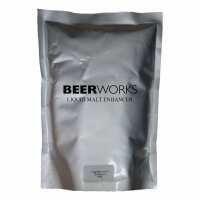 A liquid malt extract used as an enhancer instead of using sugar to produce a better quality beer.

As well as providing sugars for fermentation, liquid malt extract also improves the flavour, aroma, and body of your beer.

We use foil pouches for our malt extract, which combined with modern cold-fill techniques, results in a malt extract that retains much more flavour.

Contains only liquid malt extract no extra sugar is added.
About Love Brewing:
Whether you are making, wine, beer, cider, or spirits & liqueurs, we have everything you need to get the best possible results. From our top-rated Wineworks, Beerworks and Ciderworks Kits, to the full range of Still Spirits flavourings, yeasts and equipment, we have the right kits and equipment for you, whatever your interest and experience.
Visit Product Page