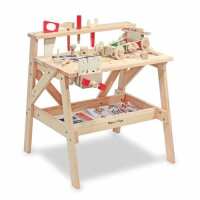 Keep that little builder busy with this sturdy wooden workbench that's just the right size. Right down to the nuts and bolts, this set includes a functioning vise, tool rack, wooden tools and hardware and a storage shelf. Ideas to spark the imagination are included!

Details
Workbench includes a functioning vise, tool rack, wooden tools and hardware.
Equipped with storage shelf
Includes ideas to spark the imagination.
Sturdy wooden construction
High quality materials ensure durability and safety.
About Toy Street:
Where fun lives!

Once upon a time, there was a little girl and a little boy, who both loved toys. When it came to their birthdays, they would each ask for a special present, but these were not always easy to find. Their parents search for the perfect gift took them far and wide. The children asked their father, 'Why can't you buy both of our toys from the same place?' A magical idea weaved its way into their father's head and Toy Street was born.

Toy Street is everyone's favourite online store filled with must-have children's toys at family prices. With thousands of products in stock and plans to add even more, you are sure to find something to keep your little ones occupied.

Here at Toy Street, we place huge emphasis on developing your child's skills and aim to sell only the most high-quality toys which encourage learning and creativity. This isn't to say our toys are all work and no play though, we have our own little testers to ensure we are only selling products that kids love!

Visit Product Page
Phone:
01603 974303
Email:
mail@toystreet.co.uk
Location:
Unit 15, Bowthorpe Shopping Centre, Norwich