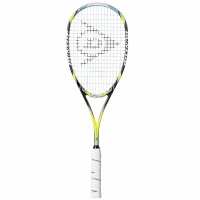 "The Dunlop Aerogel 4D Ultimate squash racket is a perfect choice for intermediate and advanced players. It has an even balance and weighs 135g (4.7oz) providing a tour style frame to produce unrivalled power and feel. The racket has the 16x19 string pattern and offers widened throat area and a long handle ensuring ultimate control, whereas its oversized head guarantees maximum power. The Dunlop Aerogel 4D Ultimate racket is 27'' (68.6cm) long and features a multi-dimensional nano-sized molecular construction that delivers an unmatched strength-to-weight ratio for enhanced racket stiffness and increased power, all without increasing the frame's weight. The racket is also strung with silk and comes with a full cover. It is the racket of choice for Amr Shabana."
About Sweatband.com:
We are Sweatband.com - Your no.1 sports superstore!
For over a decade we've been selling sports and fitness equipment through both our website and our central London showroom.
We are a Google Certified store, which means Google confirm that our customer service is of the highest level and we despatch orders with the utmost reliability. But we're not just online! Come and find us in our showroom near Oxford Circus and talk to one of our specialist advisors.
We strive to offer our customers the best, most competitive possible deals online.
Visit Product Page
Phone:
020 3773 3940
Email:
support@sweatband.com
Location:
94 Cleveland Street