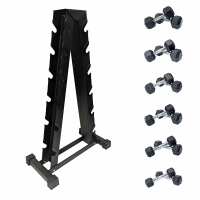 "This heavy duty set includes 6 pairs of DKN dumbbells and a sturdy DKN 6 Pairs A-Frame dumbbell rack for easy storage. The dumbbells are designed for strength building and muscle toning and have a tough and durable construction, as well as chrome plated ergonomically shaped knurled handles for a firm and comfortable grip. They feature an anti-roll safety design and pinned cast iron heads encased in rubber for extra durability and protection. The 2-sided DKN A-Frame rack offers a solid steel construction and thick non-slip rubber feet for excellent stability and floor protection. Nylon based plastic wear guards prevent the handles from damage, whilst vertical positioning of the dumbbells makes them easily reachable."
About Sweatband.com:
We are Sweatband.com - Your no.1 sports superstore!
For over a decade we've been selling sports and fitness equipment through both our website and our central London showroom.
We are a Google Certified store, which means Google confirm that our customer service is of the highest level and we despatch orders with the utmost reliability. But we're not just online! Come and find us in our showroom near Oxford Circus and talk to one of our specialist advisors.
We strive to offer our customers the best, most competitive possible deals online.
Visit Product Page
Phone:
020 3773 3940
Email:
support@sweatband.com
Location:
94 Cleveland Street