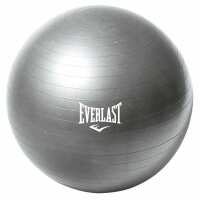 "The Everlast 65cm burst-resistant gym ball will support your stretching and strengthening exercises and add some variety to your workout routine. Both upper and lower body muscle groups can be worked on this one simple gym accessory, and the ball can help with the rehabilitation of joints and muscles after injury. Although soft and cushioning, the ball is strong, resistant to bursting and will withstand up to 150kg of user weight. A two-way action pump is supplied too, for inflating and deflating the ball."
About Sweatband.com:
We are Sweatband.com - Your no.1 sports superstore!
For over a decade we've been selling sports and fitness equipment through both our website and our central London showroom.
We are a Google Certified store, which means Google confirm that our customer service is of the highest level and we despatch orders with the utmost reliability. But we're not just online! Come and find us in our showroom near Oxford Circus and talk to one of our specialist advisors.
We strive to offer our customers the best, most competitive possible deals online.
Visit Product Page
Phone:
020 3773 3940
Email:
support@sweatband.com
Location:
94 Cleveland Street