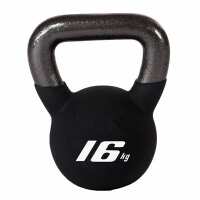 "The Adidas kettlebell - 16kg (35lbs) is excellent for intense all round training and suitable for rehabilitation work and strengthening. It has a moulded handle for easy and secure grip and has been cast dipped in neoprene to achieve extra durability. The kettlebell is a powerful tool that can be used for biceps curls or challenging shoulder muscles by making lateral or frontal movements. It is also ideal as additional resistance when making crunches. Differently from dumbbells which exercise muscles in an isolated way, the kettlebell challenges several supporting muscles at once providing a more flexible workout."
About Sweatband.com:
We are Sweatband.com - Your no.1 sports superstore!
For over a decade we've been selling sports and fitness equipment through both our website and our central London showroom.
We are a Google Certified store, which means Google confirm that our customer service is of the highest level and we despatch orders with the utmost reliability. But we're not just online! Come and find us in our showroom near Oxford Circus and talk to one of our specialist advisors.
We strive to offer our customers the best, most competitive possible deals online.
Visit Product Page
Phone:
020 3773 3940
Email:
support@sweatband.com
Location:
94 Cleveland Street