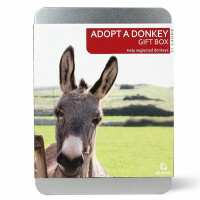 "Give someone the Gift Republic Adopt a Donkey gift box and see their delight as they get to adopt a donkey for 12 months at the Island Farm Donkey Sanctuary (IFDS). This registered donkey charity allows recipients to choose from a selection of donkeys and they offer the chance to meet the adopted donkey on the farm. Once you've registered either online or by post you will receive a supporter certificate and a photograph of your chosen donkey. Whether it is for donkey devotees or animal lovers, you can't go wrong with this excellent gift."
About Sweatband.com:
We are Sweatband.com - Your no.1 sports superstore!
For over a decade we've been selling sports and fitness equipment through both our website and our central London showroom.
We are a Google Certified store, which means Google confirm that our customer service is of the highest level and we despatch orders with the utmost reliability. But we're not just online! Come and find us in our showroom near Oxford Circus and talk to one of our specialist advisors.
We strive to offer our customers the best, most competitive possible deals online.
Visit Product Page
Phone:
020 3773 3940
Email:
support@sweatband.com
Location:
94 Cleveland Street