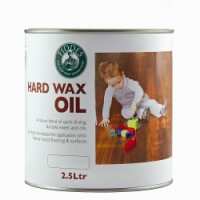 Clear Fiddes Hard Wax Oils are a range of clear quick drying finishes that will not peel or flake, they are available in satin, matt and semi gloss. Easy to maintain and renovate, Fiddes Clear Hard Wax Oils are an excellent cost effective option. Also available in a large range of tints, see other listing.

The Clear Hard Wax Oils by Fiddes are a blend of natural oils & waxes that give exceptional durability & resistance for internal natural wood flooring, kitchen worktops (wood), wooden furniture and any other internal wooden surfaces. The Clear range are available in satin, matt and semi-gloss finishes and are designed to be rapid drying whilst easy to apply and maintain they are also available here in a large tinted range. Fiddes Hard Wax Oil gives a highly durable water and stain resistant finish that is child safe when dry, economic to use because of the excellent coverage combined with an attractive natural finish. Fiddes Hard Wax oils are also available in a tinted range which includes a natural (oak lightening) version designed for light coloured wood where a light white tint is included to offset the normal slight darkening and yellowing of oils and waxes.

Key Product Features:

Quick Drying water repellent finish that will not peel or flake
Highly resistant to liquids, tested in accordance to BS3900 G5
Tough and wear resistant, tested accordance to BS3900 E15
Suitable for children's toys and has once dry been given a EN71 Toy Safety Certificate
Simple and easy to maintain and renovate with no sanding back required.
Economic to use with a litre covering approximately 24m²

Technical Specifications:
Suitable for application onto children's toys – EN 71-Toy Safety Certification. Resistant to liquids: Tested in accordance with BS 3900 G5. Resistant to wear: Tested in accordance with BS3900 E15.

Surface Preparation:
Ensure all surfaces are clean, dry, and free from any previous finish. Sand the substrate with a fine 150 grade sanding paper or 150 grit sanding disk, removing all traces of dust. Do not sand any finer than 150 as this will reduce the absorption of the oil, we strongly advise always applying a test area first as the final appearance will depend significantly on the timber it is being applied to.

The Application of Fiddes Clear Hard Wax Oil:
No primer is required. Ensure all areas to be coated are extremely well ventilated both during and after application and always test on a small area prior to initial application.  A maximum of 2 coats is recommended with the clear version. Apply at room temperature. Fiddes Hard Wax Oil is formulated for application directly, and does not require thinning.

For the first coat stir the Fiddes Hard Wax oil thoroughly before and during use, avoid applying at temperatures below 10°C. The area should be well ventilated both during application and during the drying period. Apply thinly using a Fiddes Floor oil brush or a good quality bristle or synthetic brush designed for the application of oils, laying evenly along the grain and ensuring any excess is removed within 10 minutes of application. Leave to dry for a minimum of 4 -6 hours or preferrably overnight before applying the second coat.

Apply as the first coat, thinly and allowing good ventilation. Again leave to dry for a minimum of 4-6 hours in warm, dry well ventilated conditions, or preferably overnight before light foot traffic, but please note that the surface will continue to harden and become tougher over the next 5-7 days. Clean applicator with White Spirit. When the surface area is completely dry, a light buff will further enhance the sheen level.

Surface Renovation:
To renovate a previous application of Fiddes Hard Wax Oil, lightly sand area with 150 grit sandpaper, and re-apply sparingly.

Coverage for Fiddes Clear Hard Wax Oil:
A single application will cover approximately 20-24 m² per litre, coverage can vary significantly depending on the density and condition of the substrate.

Product Availability:
250ml, 1 litre, 2.5litres

Range of  Finishes:
Clear Satin, Clear Matt, Clear Semi Gloss, Clear Dead Matt

Nb. Always apply to a test area first and check the colour before use, ensure the contents are stirred thoroughly before and during application.

Maintenance of Fiddes Treated Surfaces:
Damp mop (NOT wet) or lightly spray your Fiddes treated surface regularly with Fiddes Floor Surface or Wood Surface Cleaner. For areas subject to high wear or to remove stubborn stains areas can be treated with Fiddes Floor Wax which when buffed will also give an increased depth of sheen. If the surface requires a renovation coat please see the instructions above.
About New Venture Products Ltd:
New Venture Products specialise in supplying and distributing safety, security and protective paints and coatings to the trade and general public. New Venture Products has been selling Protectakote and now its sister product Safekote since 1998 and keep a large range of colours in stock for immediate delivery throughout the UK & Europe both by pallet and courier. New Venture Products also stock all the primers, thinners and application rollers required to get a professional result on most materials.
Visit Product Page
Phone:
01235427000
Email:
sales@newventureproducts.co.uk
Location:
Unit 8 The Glenmore Centre, Grove Business Park, Downsview Road