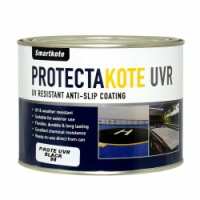 A tough, flexible and UVR resistant aliphatic Polyurethane coating, it uses irregular rubber crumb to give a high profile yet non abrasive anti slip finish that can cope with anywhere from a ship's deck to the back of a pick up.
Protectakote UVR is a unique, moisture cured advanced formula Aliphatic polyurethane coating which uses rubber granules to give a tough and flexible anti slip (Nb. whilst often referred to as non-slip it is impossible to ever have a completely non-slip finish) finish that does not flake, chip or peel. With no mixing or blending of different components required, it can be easily applied to almost any surface including metal, concrete, wood, fibreglass, plastic and rubber leaving an attractive textured anti-slip finish that is resistant to weathering. Suitable for high wear applications Protectakote UVR can cope with vehicle traffic and long term external applications.

If you are looking for a lower profile anti slip finish that is easier to keep clean and maintain please look at Safekote Marine.


The key advantages of Protectakote UVR over standard Protectakote are:

Protectakote UVR has an approximately 50% higher tensile strength than standard Protectakote making it significantly harder wearing and longer lasting in high wear areas.
Protectakote has half the drying time of standard Protectakote making it quicker and easier to apply, particularly at lower temperatures.
Protectakote UVR is available in a much larger range of colours, including lighter colours which help to keep interiors brighter and easier to work in.
Protectakote UVR is very resistant to UV light so will last longer and fade slower particularly when in exposed areas such as boat decks, open backed pick up trucks or gunwhales.

Coverage:
A one litre tin will cover approximately 1.25 - 1.5 m² (15 sq feet) with the recommended two coats. For high wear areas we recommend applying 3 coats.
Application Method:
To get an even finish with Protectakote UVR it should be applied with a textured honeycomb roller these are available in our Protectakote rollers & brushes section, a brush can be used to stipple the paint in to corners and edges. We offer a large range of sizes to suit different applications. Protectakote UVR version has all the same benefits as standard Protectakote but is 50% stronger, faster drying and has significantly greater resistance to dis-colouration and weathering.


Typical Product Uses:
Some of the various areas where Protectakote UVR may be applied are:

• Load areas of pick-up trucks and vans for protection and non-slip properties
• All indoor and outdoor flooring applications
• Floors and steps of transporters and buses
• Ramps for wheelchair access
• Emergency exits and fire escapes
• Anti-slip areas around machinery
• Bridges, steps, walkways, decks and helicopter pads on ships
• Non-slip surfaces in showers, change rooms and ablution blocks


Technical Information:

Pack size: 1 litre, 4 litres & 4 litre Bedliner Kit
No of components Single pack
Touch drying time <90 minutes at 25ºC and 50% relative humidity
Light foot traffic 6 - 8 hours
Serviceable after 24 hours
Full cure 4-7 days to reach final strength
Overcoating time Ideal: 60 – 90 minutes at 25ºC at 50% relative humidity
Percentage solids 70% by mass
Percentage VOC <296g/l
Tensile strength at break 26MPa (ASTM D638)
Elongation at break 600% (ASTM D638)
Service temperature -30ºC to 115ºC
Application temperature 5ºC to 35ºC
Hardness 85 Shore A
Weathering no change after 1000 hours QUV
Specific Gravity 1,03g/cm3 (rubberised version)
1.07g/cm3 (smooth version)


Brief Application Guide:
 
Painted Surfaces 
Sound painted surfaces such as automotive paint should be lightly abraded to remove the gloss, cleaned with CIF household cream cleaner, rinsed and allowed to dry completely.  Please note we do not recommend applying Protectakote over Chlorinated rubber or water based acrylics. 

Ceramic Tiles, Marble, Terrazo, Glass
Surface should be thoroughly cleaned to remove any oils and waxes etc & rinsed thoroughly to leave a water break free surface. Protectakote Clear Primer Treatment should then be applied & overcoated after approx 1 hour. Xylene the thinners for Protectakote is also an excellent de-greasant.
 
Aluminium
Abrade to bright fresh metal and prime with Protectakote Clear Primer, Protectakote 2K, Duratop or for areas where there is no risk of water pooling Metcote, primer application should be completed within 30 minutes of abrading.

Galvanised steel
Scour with an alkaline detergent or pre-cleaner to remove all oil and create a water break free surface, lightly abrade and solvent wipe with Xylene and then prime within 3 hours of abrasion with a suitable etch primer such as Protectakote 2K or EP90 for high wear applications or clear primer treatment.
 
Concrete
New concrete should be minimum of 6-8 weeks old, surface should be clean & dry, first coat diluted 10% with Xylene. Concrete subject to rising damp
About New Venture Products Ltd:
New Venture Products specialise in supplying and distributing safety, security and protective paints and coatings to the trade and general public. New Venture Products has been selling Protectakote and now its sister product Safekote since 1998 and keep a large range of colours in stock for immediate delivery throughout the UK & Europe both by pallet and courier. New Venture Products also stock all the primers, thinners and application rollers required to get a professional result on most materials.
Visit Product Page
Phone:
01235427000
Email:
sales@newventureproducts.co.uk
Location:
Unit 8 The Glenmore Centre, Grove Business Park, Downsview Road