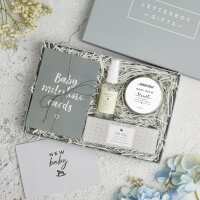 FREE NEXT DAY DELIVERY The New Baby Letterbox Gift is a wonderful selection of luxury unisex new baby gifts, perfect gift for the birth of a new baby, a pregnancy gift or a baby shower gift. Free delivery through the letterbox, free-gift wrapping and free Congratulations New Baby card with every order. Baby Milestone Cards, Baby Massage Oil, Organic baby balm and soy candles.
About Letterbox Gifts:
Letterbox Gifts produce beautiful letterbox friendly gift sets containing British-made products, each being hand-wrapped in our workshop in Sheffield. They are designed to be delivered straight through standard letterboxes to avoid any annoying trips to the post office! There is a Letterbox Gift for every occasion, with each gift set coming with a complimentary greetings card which can be personalised with your own message. Letterbox Gifts also offer subscriptions, where a different Letterbox Gift comes through the door each month.
Visit Product Page