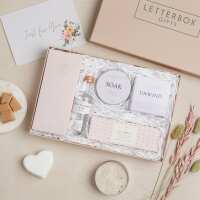 FREE NEXT DAY DELIVERY The 'Gin Night In' Letterbox Gift is the perfect birthday gift some someone who deserves the ultimate relaxing night in! Free personalised greetings card with this hand-wrapped gin gift. Send as bridesmaids gifts, 30th birthday gift for daughters and friends. Letterbox gin gift set, enjoy a spa-worthy bath accompanied with a gorgeous gin and tonic and delicious gin chocolate! Free UK delivery, postable gin gift set. Gin subscription gifts with a greetings card of your choice. The 'Gin Night In' will arrive beautifully wrapped and straight through the letterbox. The 'Gin Night In' Gift Set contains: Gin & Tonic Blonde Chocolate A delicious white chocolate infused with gin & tonic flavours. Made exclusively for Letterbox Gifts by The Chocolate Society. Premium British Gin - 50ml Silent Pool - A smooth and fresh juniper-driven gin with floral layers, distilled from grain. Subtle sweetness from locally sourced honey creates the perfect finish to this gorgeous gin. Nathalie Bond Organics – Himalayan Pink Salts. 55ml. 100% pure botanical Rose Geranium & Patchouli bath salts bursting with enriching minerals. Relaxes muscles whilst cleansing and detoxifying skin. The Natural Candle Company – Relaxation Geranium, sweet orange, lavender and ylang ylang tea lights made using recycled glass, high quality organic plant wax and essential oils. Sheffield Skincare – Moisturising Bath Truffles. 3x truffles. All natural handmade heart bath truffles with beautifully scented essential oils and moisturising cocoa butter. THIS GIFT SET IS SUITABLE FOR VEGETARIANS
About Letterbox Gifts:
Letterbox Gifts produce beautiful letterbox friendly gift sets containing British-made products, each being hand-wrapped in our workshop in Sheffield. They are designed to be delivered straight through standard letterboxes to avoid any annoying trips to the post office! There is a Letterbox Gift for every occasion, with each gift set coming with a complimentary greetings card which can be personalised with your own message. Letterbox Gifts also offer subscriptions, where a different Letterbox Gift comes through the door each month.
Visit Product Page