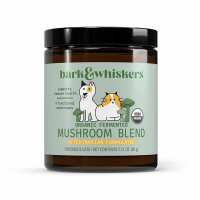 The 8 species selected for Dr Mercola's Whole Food Mushroom Complex for Pets include:

Shiitake (Lentinula edodes) - Contains abundant l-ergothioneine and the immune system-supporting polysaccharide lentinan.
Reishi (Ganoderma lucidum) - Known as a "three treasure" herb, it's thought by the Chinese to harmonise jung (life force), qi (energy), and shen (spirit).
Maitake (Grifola frondosa) - The fruit bodies and mycelia of the Maitake contain high concentrations of immune-supporting beta-glucans.
Lion's Mane (Hericium erinaceus) - Resembling a cheerleader's pom-pom more than a mushroom, this whitish mushroom improved memory and helped regain a sense of curiosity in a group of study mice. It is unknown whether the benefits in mice apply to cats and dogs.
King Trumpet (Pleurotus eryngii) – Contains significant levels of l-ergothioneine, selenium, and beta-glucans. In animal studies, it helped maintain healthy cholesterol levels that were already within the normal range.
Turkey Tail (Trametes versicolor) - Known for its rich supply of a particular type of polysaccharide – PSK – that may promote immune, digestive, urinary and respiratory health, and normal cellular growth.
Himematsutake (Agaricus blazei) - Related to the common button mushroom, the Agaricus is noted for its high content of immune-supporting polysaccharides and other important cellular growth-supporting compounds.
Cordyceps (Cordyceps militaris) - Chinese herbalists believe that Cordyceps replenishes Yin and Yang Jing and acts as a restorative tonic for extreme exertion, stress, or from normal aging. Also known for its ability to support energy, performance, circulation, respiratory health, and healthy cholesterol levels already in the normal range.

How can Dr Mercola's Organic Mushroom Complex for Pets potentially help support your pet:

Immune Health - Help support your pet's immune system with beta- and alpha-glucans and polyphenols from the blend of eight health-promoting mushrooms. These are also an excellent source of fermented foods for immune health
Digestion - Mushrooms' naturally-occurring digestive enzymes, pre-biotics, and dietary fibre support your pet's digestive functions.
Respiratory and Cardiovascular Health - Mushroom compounds promote circulation and oxygen production.
Detoxification - L-ergothioneine and other mushroom compounds support your pet's normal detoxification processes.
Joint Health - Naturally-occurring vegetarian glucosamine and essential fatty acids help support your pet's joints.
Nutritional Health - Naturally contains vitamin D, B6, and B12, 35 chelated minerals, and over 19 amino acids to assist with bioavailability of nutrients to support your pet's liver, kidneys, and overall health and well-being.
Skin and Coat - Natural biotin, methionine, protein, vitamins, and other unique mushroom properties help produce a lustrous coat to help your pet feel and look his or her best.
Longevity - Super-antioxidant L-ergothioneine and other unique and potent antioxidants help reduce oxidative stress and protect against free radical damage.

Visit Product Page
Phone:
01565740777
Email:
hello@healthfulpets.co.uk
Location:
12 Dalby Court Gadbrook Business Centre Northwich Cheshire CW9 7TN