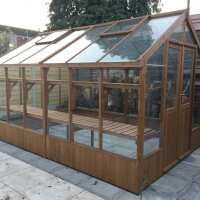 8x12 Swallow Raven Wooden Greenhouse + Install. Swallow Greenhouses with installation included. The 8ft x 12ft Swallow Raven Greenhouse is a great size for growing a family sized crop of vegetables. It's practical double door design gives easy access and it's installed for FREE . 3mm Toughened glass is standard on all Swallow wooden Greenhouses and is held in special grooves within the frame and then sealed in place with quality silicone. Inward opening double doors with mortise locks are also standard. Each roof vent is supplied with Bayliss XL autovents to automatically open the roof vents when you're not around to stop over heating. You also get a full length of slatted staging down one side of the greenhouse for working on and storing your plants.
+ 2660mm (8ft 9") Wide Wooden Greenhouse - Wide access for wheelbarrows etc
+ ThermoWood® Construction - Heat treated high performance timber.
+ 3mm Toughened Glazing - Safe Strong and Family Friendly.
+ 4 Opening Roof Vents - For Ventilation.
+ 4 Bayliss XL Autovents - Automatically opens your roof vents.
+ Double Doors with Mortise Lock - Wide access and Security
+ Bottom Boards 12mm - Tongued and Grooved with stainless steel nails.
+ Glazing Grooves to hold glazing - Solid and Silicone Sealed.
+ Full length of Slatted Staging to one side - 520mm wide 745mm high.
+ 20mm Black PVC Damp Barrier - Screwed to bottom for rising damp protection.
+ 10 Year Warranty - on frame and base.
+ Installation Included in Price - Just order and everything is done for you !
Swallow Greenhouses Swallow Raven Greenhouse
About Greenhouse Stores:
We offer a huge selection of high quality models and accessories from all of the leading brands and manufacturers in the glasshouse market today. We believe that gardeners need products that are made to last and won't let them down, therefore we only have garden equipment for sale that we truly believe in and would happily use ourselves.
Visit Product Page
Phone:
0800 098 8877
Email:
Sales@greenhousestores.co.uk
Location:
Mere Green Chambers,338 Lichfield Road,