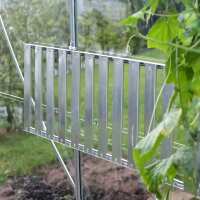 Vitavia Folding Staging. This silver folding staging simply attaches to the side of your greenhouse and folds down onto it's 2 legs when you need it. Staging Dimensions Greenhouse Accessories Greenhouse Staging
About Greenhouse Stores:
We offer a huge selection of high quality models and accessories from all of the leading brands and manufacturers in the glasshouse market today. We believe that gardeners need products that are made to last and won't let them down, therefore we only have garden equipment for sale that we truly believe in and would happily use ourselves.
Visit Product Page
Phone:
0800 098 8877
Email:
Sales@greenhousestores.co.uk
Location:
Mere Green Chambers,338 Lichfield Road,