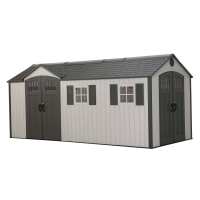 Lifetime 17.5x8 Plastic Shed. The New Lifetime 17.5x8 Plastic Shed is a 8ft wide apex roofed shed with an offset gable including a built in floor and Large double doors. This is without doubt the highest quality plastic shed available today. It's good looking and tough and will stand up to the harshest UK weather. The Lifetime 17.5 x 8 is built from Double Wall High Density Polyethylene (HDPE) and powder coated steel making it super strong and resistant to weather. A Lifetime Shed will not warp, crack, chip, peel, fade or stain. The Lifetime 17.5ft x 8ft shed has a hard wearing integrated non slip PVC floor that will take many years of punishment. Natural light floods into the shed through it's full length skylight running down the ridge as well as it's smart little front windows. There are screened vents in both gable ends to allow for good airflow without letting in pests such as flies and wasps. + 5280mm (17ft 3") Wide Plastic Shed - Wide practical shed design. + Steel Reinforced Dual Wall Construction - Tough and attractive. + Heavy Duty Steel Trusses - 7 Steel A-Frames for roof strengthening. + Slatted Dark Brown Roof - Weather Rot and Fade-proof. + Double Outward Opening Doors - 4ft wide and 6ft high. + Integral PVC Shed Floor - Non-slip Sturdy plastic surface. + 2 Screened Vents one in each Gable - Provide airflow but keep out pests.. + 1 Ridge Length Skylight - Allowing natural light to flood in. + 2 Windows (shatterproof) - More natural light and ventilation. + 1 2300mm Long Shelves - Good sized shelf for storing bits and bobs. + 12 Wall Hooks and 1 Tool Pouch - Handy tool storage hooks . + Snow Load Kit - Ultimate weather resistance. + Full Assembly Instructions Provided - Supplied with package. + 10 Year Warranty - Manufacturers warranty. + Fire and Rot Resistant. Sheds Lifetime Plastic Sheds
About Greenhouse Stores:
We offer a huge selection of high quality models and accessories from all of the leading brands and manufacturers in the glasshouse market today. We believe that gardeners need products that are made to last and won't let them down, therefore we only have garden equipment for sale that we truly believe in and would happily use ourselves.
Visit Product Page
Phone:
0800 098 8877
Email:
Sales@greenhousestores.co.uk
Location:
Mere Green Chambers,338 Lichfield Road,