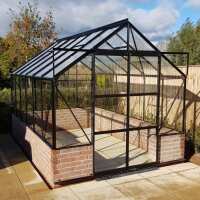 Vitavia Cassandra Black 8x12 9900 Dwarf Wall Greenhouse. The Vitavia Cassandra Black 8x12 Dwarf Wall Greenhouse can be built on to a multitude of different bricks and blocks to make your greenhouse the centre piece of your garden.. The low threshold entrance means that there is nothing to step over when you enter the greenhouse. This is very safe, as there's nothing to trip over. It's also great for access if you use a wheelchair or for getting in and out with a wheelbarrow. Black 8x12 Cassandra Greenhouses come with full cantalever bracing throughout to shrug of the UK climate. + 2570mm (8ft 4") Wide Greenhouse - Practical width for serious growing. + 3mm Toughened Glazing - Full Length Safety Glass. + Low Threshold Entrance - "No Trip" flat entry safe and convenient. + Double Sliding Doors - Easy access for wheelbarrows and wheelchairs. + Black Powder Coated Aluminium Frame - Hard wearing. + Extra Roof and Corner Bracing - Added Strength and Rigidity. + Glazing Bar capping as Standard + Integrated Gutters + 4 Opening Roof Vents + High Eaves at 1510mm + 10 Year Manufacturers Warranty Vitavia Greenhouses Vitavia Cassandra Dwarf Wall Greenhouse
About Greenhouse Stores:
We offer a huge selection of high quality models and accessories from all of the leading brands and manufacturers in the glasshouse market today. We believe that gardeners need products that are made to last and won't let them down, therefore we only have garden equipment for sale that we truly believe in and would happily use ourselves.
Visit Product Page
Phone:
0800 098 8877
Email:
Sales@greenhousestores.co.uk
Location:
Mere Green Chambers,338 Lichfield Road,