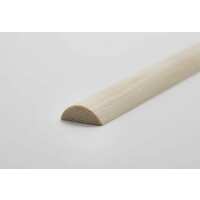 Our half round moulding is available in 2.4m lengths and manufactured in our sawmill using unsorted grade redwood, which is the highest grade possible.
We source our redwood from environmentally friendly certified Finnish sawmills who use state of the art saw-milling facilities to produce the finest timber from sustainable managed forests.
Key Features

Can be painted varnished and stained.
Machined in our sawmill to the highest quality.
Made from premium quality softwood.
Highly detailed finish.

Visit Product Page