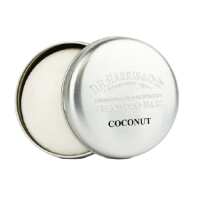 Despite being a truly innovative way of cleansing hair, Shampoo Bars are still a relatively unknown quantity. D R Harris is seeking to remove the mystique with their Coconut Shampoo Bar, a compact and long-lasting means of concentrated hair care. All it requires is water to produce a truly impressive lather, while its liquid-free composition makes it an invaluable addition while travelling. Utilising Coconut to create its gorgeous aroma, the ingredient is also perfect for sensitive scalps still desiring a great Shampoo. D R Harris Coconut Shampoo Bar reduces on waste by producing the lather of several bottles of your typical cleanser. Comprised of numerous natural oils and other healthy ingredients, the bar is designed to shock with the voluminous lather it can produce with ease. Even the colour of the bar comes from a natural source, with only the most organic vegetable colourings giving your bar that added spark while washing. Wet hair and stroke D R Harris Coconut Shampoo Bar down the hair a few times to create a plentiful lather. Similar rub between hands as another means of producing your desired lather and massage into the scalp and hair. Rinse thoroughly.
About Calissa:
Calissa.com is an independent luxury beauty platform. We pride ourselves on our edited selection of premium and niche brands. As a British brand, we've cherry picked the best products from home as well as sourcing favourites from brands all over the world. We are always on the lookout for the next big thing in beauty. Your order will be delivered quickly and reliably in award-winning recycled and recyclable packaging (almost) anywhere in the world.
Calissa is your doorway to luxury independent beauty.
Visit Product Page
Phone:
03302234501
Email:
help@calissa.com
Location:
195 South Liberty Lane, Ashton, Bristol