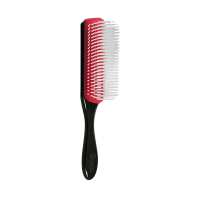 Winner of Best Hairbrush Range at the U beauty Awards 2013, the Denman D3 Medium Styling Brush is a vital part of the stunning range. Suitable for all types and lengths of hair, this classic styling brush is ideal for smoothing and styling. You simply can't go wrong when buying the most famous styling brush in the world. The Denman D3 Medium Styling Brush is ideal for smoothing and styling due to its classic, smooth round-ended pins and ergonomic handle design for balance and comfort. Denman's distinguished anti-static natural rubber pad provides extra grip and control during blow-drying. Maintenance With a little care and attention your Denman D3 Medium Styling Brush will keep on performing at its best. Simply remove loose hair from the bristles regularly. Occasionally wash in warm, diluted soapy water and rinse thoroughly. Store the brush away from heat and sunlight. What can this brush be used for? Styling Detangling wet and dry hair. It is excellent for detangling coily, curly or kinky hair. Separating and defining wet curls Sculpting and styling hair Blow-drying & Blow-styling Smoothing styled, straight hair Styles requiring grip, tension and control Can it be used with a hair dryer? Yes, it is heat resistant. What are the dimensions? Length: 200 mm (7.87inch) Width: 35 mm (1.38inch) How many rows of bristles does it have? This is the medium model and has 7 rows. How can I keep it clean? The pad is removable and can be hand washed in soapy water. Can I take the bristles out? The rubber cushion that retains the bristles slides out of the handle. Once out, you can remove the bristles that come in rows. What material is it made of? The pins are made of nylon and the cushion is made of rubber. It is highly resistant. Where is this brush made? They are made in the UK. We buy them directly from Denman UK. Does it come in its original box? Yes. Are there other types of Denman brushes? Depending on the length of your hair, its type and the purpose of the brush, you may find that another type of Denman brush more suitable for you: Styling Tangle Tamers Vent Grooming Paddle Barrel
About Calissa:
Calissa.com is an independent luxury beauty platform. We pride ourselves on our edited selection of premium and niche brands. As a British brand, we've cherry picked the best products from home as well as sourcing favourites from brands all over the world. We are always on the lookout for the next big thing in beauty. Your order will be delivered quickly and reliably in award-winning recycled and recyclable packaging (almost) anywhere in the world.
Calissa is your doorway to luxury independent beauty.
Visit Product Page
Phone:
03302234501
Email:
help@calissa.com
Location:
195 South Liberty Lane, Ashton, Bristol