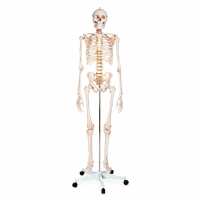 A full-size (170cm tall) human skeleton model on stand ideal for teaching about the basics of the anatomy of the skeletal system.
This high quality, budget-friendly skeleton model is articulated to allow demonstration of basic movements, and features a vertebral artery and herniated lumbar disc (slipped disc). The skull part of the skeleton includes a movable jaw, cut calvarium (top of skull), suture lines, and 3 removable lower teeth. It is a pelvic mounted skeleton and the arms and the legs are removable for study if required, and the skeleton can also be easily removed from its stand. It is also possible to hang this model from top of the skull if required (mounting not provided).
The XC-101 plastic skeleton comes with a stand and a clear dust cover included, and the 5 caster stand ensures a stable and movable base. A hard wearing and washable skeleton reproduction, ideal for schools and for introductory anatomy classes or demonstrations.
A more advanced version of this skeleton replica is also available - see our Budget Skeleton Model with Muscles and Ligaments for more details.
Visit Product Page