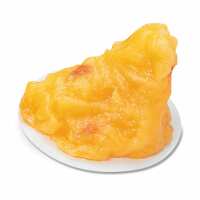 This dramatic 1lb of Fat Model by Life/Form is a shocking but strongly motivating attention-getter! A body fat model is an ideal educational tool for GPs, nurses and other health and sport professionals. The Pound of Fat Model dramatically visualizes the important and motivating fact that "every extra pound of fat (approx. 450g) requires an additional mile of blood vessels." One of our bestselling models, the plastic fat replica is an affordable and effective way of demonstrating the importance of a healthy weight and diet. The One Pound of Fat Model is made of pliable, long-lasting vinyl plastic. Hand around these body fat models during a clinic or class to kick start a discussion around healthy eating and weight loss. We even have customers who keep a fat model next to their fridge as a regular reminder of their weight loss goals!
Ideal for:

Fitness professionals such as personal trainers
Weight loss classes
GP and hospital clinics
Schools
Vets educating owners about pet obesity

The Life/Form fat replica is also available in a 5lb version and money-saving fat model set. ISO 9001 quality management certified.
Please note the Life/Form fat replica represents approximate volume of real fatty tissue; weights vary and the fat model is not designed to be an accurate anatomical representation. To show the difference between the volume/size of a pound of fat and muscle, consider the 'Fat Chunk' and Mighty Muscle' models or the 'Globs of Fat' and 'Mass of Muscle' models, both available as a set or individual 1lb and 5lb models.
Visit Product Page