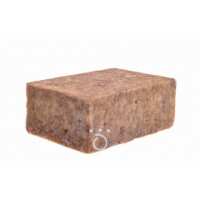 If you haven't tried Black Soap you haven't lived. If you are one of those women or men who prefers products like Origins, Body Shop, and Garden Botanika to Revlon then you will absolutely appreciate the Black Soap made by the Akoma Cooperative. Made from cocoa pods, virgin coconut oil, and Shea Butter, this Soap packs vitamin A, C, and D power.
Loaded with anti-aging anti-oxidants, Black Soap is an essential for stressed out skin of all skin types. The Soap is made in the traditional way by Pusu-Namogo villagers in Ghana who have worked to form a community cooperative that benefits all within their community.
NOTE: Due to shortage our bulk black soap will come as 3.5 bars instead of 1 block.

About Akoma Skincare:
At Akoma, we do business in a way that's good for everybody.

Our all-natural skin care and spa products are both high quality and great value.
The pure plant ingredients used have all been specially chosen for their natural healing properties, giving a wonderful sense of comfort and luxury to our products so you can enjoy using them day after day.

Our growing customer base around the globe choose Akoma because the products are so easy to use and gentle on your skin.
Visit Product Page
Phone:
01332613967
Email:
support@akoma.zendesk.com
Location:
Unit 9A Sawley ParkNottingham RoadDerby, ,