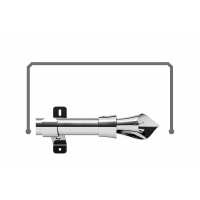 300cm Swish 28mm Blossomtime Chrome 3 Sided Bay Window Pole.The Swish Design Blossomtime in 28mm diameter is suitable for most 3 sided bay window spaces. The beautiful blossomtime finials adds a classic finish to the pole set.<br /> <br /> The 28mm bay window pole kit is supplied in a chrome finish and comes complete with:<br /> <br /> <br /> 2 x Blossomtime finials<br /> 4 x 28mm chrome curtain poles - see specification table below for lengths of individual poles supplied in the kit<br /> 4 x standard lined rings<br /> 26 or 46 x lined pass-over rings - depending on size selected<br /> 4 x wall-fix adjustable pass-over brackets - for the rings to pass over<br /> 3 x wall-fix adjustable end brackets - to be fixed on the ends and middle of the pole<br /> 2 x snake corner joints - to create the bends at the corners of your window<br /> 1 x pole connector - to connect the poles at the centre of the main window<br /> <br /> <br /> This product is available in 2 different overall lengths of 300cm and 500cm.<br /> <br /> Brackets<br /> Supplied with strong, adjustable triangulated wall fix brackets, the pole will be held in place safe and secure. The brackets can be adjusted to change the distance between the pole and the wall. See the additional image above for full measurements.<br /> <br /> Rings<br /> The passing rings are nylon lined, to ensure they glide quietly and smoothly. They have a small section cut out of them to allow them to pass over the adjustable wall fix pass-over brackets. The correct number of rings are supplied for your chosen length of pole. The exact numbers provided can be seen in the specification table below.<br /> <br /> Corner Joints<br /> We understand that not all bay windows are the same size, so the snake corner joints allow the rings to glide around any angle up to 90 degrees. This means that the 28mm chrome Blossomtime bay pole kit from the Swish Design Studio range really is fit for most 3 sided bay windows.<br /> <br /> How to measure<br /> Please be sure to check the lengths of each of your bay window sides and make sure that the pole you select is long enough to cover the complete length. For more information, please use our bay window measuring guide.<br /> <br /> All our curtain poles can be cut to size using a fine tooth hacksaw.
About Curtain Pole Store:
Curtain Pole Store is a family run online business bringing to you a diverse range of high quality, affordable curtain poles and accessories. We pride ourselves on offering you the best prices available online for your curtain poles.
Visit Product Page
Phone:
0345 2577 900
Email:
sales@curtainpolestore.co.uk