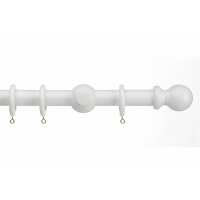 240cm Universal 28mm Ball Wooden Curtain Pole White. The Universal 28mm Ball wooden curtain pole in white finish is a simple and stylish wooden curtain pole from the Universal brand.

This wooden pole set is supplied with Ball finials, pole, rings and brackets along with the fittings required to assemble the pole together and fitting instruction. The recommended rings and brackets for the different pole lengths can be seen within the specification section. Pole sizes over 240cm is provided in 2 pieces for which a joining screw is included to connect the poles. This break is disguised under a bracket to give you a subtle finish. The brackets are wall fixed.

Curtains up to the weight of 11kg is recommended for this wooden curtain pole.

Curtain pole store can offer discount to buyers wishing to purchase up to 6 curtain poles of the same length for this Universal brand. Please get in touch via telephone or email.

This product is available for next day delivery when order is placed after 9th May 16 Mon-Friday 9-6pm.
About Curtain Pole Store:
Curtain Pole Store is a family run online business bringing to you a diverse range of high quality, affordable curtain poles and accessories. We pride ourselves on offering you the best prices available online for your curtain poles.
Visit Product Page
Phone:
0345 2577 900
Email:
sales@curtainpolestore.co.uk