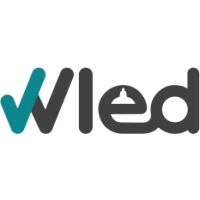 The innovative and fashionable lighting creations from Mirrorstone™ simply keep on coming with this, the Ritz 9-Way Ice Cube Shades Ceiling Fitting. Very similar to the 5-Way option, this gorgeous fitting will add a certain je ne sais quoi to any room in your home.
It's available in a stunning chrome finish, and will require nine G9 LED light bulbs, which you'll be able to purchase simultaneously on our website, for extra convenience.
Should I Switch To LED?
The straightforward answer to this question is YES!
We're pioneering the big switch to LED light sources, because they're simply so much better than the conventional halogen and incandescent options.
It's not only significantly cheaper to run an LED bulb of corresponding luminosity, they're also superior with regard to their 'Green Credentials'. For example, the G9 bulbs suitable for this light fitting require one tenth of the electricity to power them and have a life-expectancy that's ten times longer than their old-school equivalents, which equates to both short and long-term energy savings.
LED light bulbs are also fully recyclable, unlike their outmoded counterparts. That has to be good for the environment, right?
Don't Be Ambivalent About Ambience!
When you're considering the location of this light fitting in your home, another area in which LED really earns its stripes is its effect on the ambience of a room. A choice of either the Warm White (3000k) or Cool White (6000K) colour temperatures will ensure your home is always lit according to your own personal preference.
Warm White light is usually applied to 'living' rooms such as the lounge or bedroom, whereas it's Cooler relative has traditionally been affixed to the ceilings of 'function' rooms, like bathrooms or kitchens, however, you're free to mix-and-match as you see fit.
Save Save Save!
We're only human, and we all love to save money, so why not take full advantage of all our opportunities to make some real savings?
On selected products, we frequently offer discount promotional codes to save you money. Simply input the appropriate code prior to checkout, and you'll receive up to 20% off our already heavily-discounted prices!
If you've always dreamed of buying your goods at wholesale prices, but didn't know how to go about it, you might like to consider the possibility of becoming a trade customer. You'll be able to make some incredible savings in this way!
28-Day Home Trial Without Question.
We know that, on occasion, you'll receive an item that doesn't quite suit you. That's absolutely no problem. With our 28-day no-quibble returns policy, you're covered should this occur, however you should bear in mind that, as this is a special order item and isn't kept in our warehouse, it'll be subject to a 15% restocking fee.
This particular item also has a full 12-month warranty period, for your extra peace of mind.
We're Here To Help So Give Us A Call!
Should you wish to purchase this or indeed any of our modern light fittings, or you'd just like to discuss your LED lighting needs, you shouldn't hesitate to contact one of our dedicated and friendly Customer Service Advisors on 0116...
Visit Product Page
Phone:
0116 321 4120
Email:
cs@wled.co.uk
Location:
Unit 1A, 20 Devonshire Road