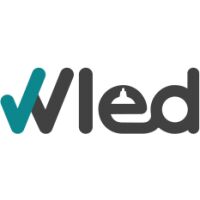 Take your RGB LED strips to the next level using our Mirrorstone RF Controller with 20 Key Remote Control.
Coming in 2 parts – the receiver that installs between your transformer and your strip lights, and the RF handheld remote - this controller is compatible with both 12V and 24V input voltages.
The maximum load differs depending on the voltage – 288W for 12V and 576W for 24V.
On top of this, it features CAT5 input and output for connecting multiple controllers to one another in sequence using a CAT5 cable, allowing you to run larger amounts of strip light.
It takes up minimal room too, measuring in at just 24 x 91 x 88mm, and can be hidden away out of sight thanks to the remote's RF signal.
It doesn't need a direct line of sight in order to work, and can even be used from another room with its 20m range.
The 20 key remote runs on a 3V lithium cell battery, and comes in a subtle yet attractive white finish.
Picking The Right Strip Light For This Controller
As we've already mentioned, this controller is designed for use exclusively with our RGB LED tape.
A great all round option would be our 14.4W RGB LED Strip Lights. They have a maximum brightness of 1020 lumens, yet only consume 14.4W/m of energy.
The extra brightness gives you more to work with when used with our featured controller, making it a better option than our 7.2W tape.
At 50,000 hours of life too, it's sure to last you well beyond 15 years of use.
If you're looking for a controller that is a little more basic, then you could have a look at our IR Controller with Remote.
It uses IR technology so it does require a direct line of sight between remote and receiver, but is capable of nearly all the same effects as our featured controller, so it still just as functional, making it a great alternative.
Be sure to check out our whole range of RGB strip light controllers for all your options.
If you are looking to buy a whole set, you might want to know that orders exceeding £40 automatically qualify for free shipping – giving you instant savings.
You could yet save up to 20% off selected items, including this controller, by visiting our special discount codes page. We update this with new offers all the time, so it's a good idea to check back regularly!
Protection On Your Purchase
If you find that you need to bring your RF controller back for any reason, then you're welcome to return it at any point during our 28 day home trial period. You can get a full refund or exchange – protecting your rights as a customer.
After this initial period, you're covered by Mirrorstone's 2 year replacement warranty.
If you would like to speak to a member of our team about this RF Controller With 20 Key Remote Control, other LED controllers that we sell, strip light setups, wholesale rates or anything else, then please get in touch.
You can phone us on 0116 321 4120, or send an email to cs@wled.co.uk.
Visit Product Page
Phone:
0116 321 4120
Email:
cs@wled.co.uk
Location:
Unit 1A, 20 Devonshire Road