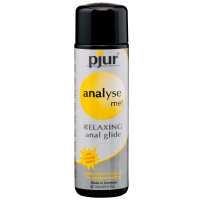 For long lasting pleasure and lubrication that can extend and heighten your intoxicating anal play, this relaxing anal lubricant is designed for its purpose and offers outstanding pleasure, even in the cases of hypersensitivity.
Featuring a jojoba silicone based formula with outstanding muscle relaxant effects for further comfort, this relaxation orientated anal lubricant offers long lasting pleasure with a neutral odour and stainless qualities for intoxicating use that will maximise your anal play. Completely compatible with condoms for peace of mind as well as pleasure, this lubricant offers a generous 100 mls for long lasting use, time and time again.
About KinkyCherries:
KinkyCherries is a London based adult entertainment online store offering low prices and more than 5,000 products in stock for same-day despatch. All items are discreetly packaged and delivery is free on all UK orders. KC also delivers outside the UK, to over 75 countries worldwide.
Visit Product Page
Phone:
0844 567 5740
Email:
support@kinkycherries.co.uk
Location:
Legacy Centre Hanworth Trading Estate Hampton Road West, ,