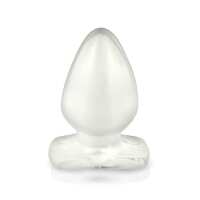 Treat your anal pleasure points with this medium-sized flexible and supple plug made from translucent jelly material that is ideal for both anal first-timers and more advanced users. You will never be that same again once you use it!
Butt fantasy urges will never be a problem because the Pink Plug and Joy Medium is finally here to please you. Perfect to use alone or during lovemaking for added infinite pleasure. The plug is also a fantastic investment toy for those who have already explored anal play and are looking for a more challenging step for more intense pleasure imaginable. It is made out of a premium grade translucent jelly that will last you a lifetime of analgasms day and night. Go and get one now!
Total Length 90 mm
Diameter 50 mm
About KinkyCherries:
KinkyCherries is a London based adult entertainment online store offering low prices and more than 5,000 products in stock for same-day despatch. All items are discreetly packaged and delivery is free on all UK orders. KC also delivers outside the UK, to over 50 countries worldwide.
Visit Product Page
Phone:
0844 567 5740
Email:
support@kinkycherries.co.uk
Location:
Legacy Centre Hanworth Trading Estate Hampton Road West