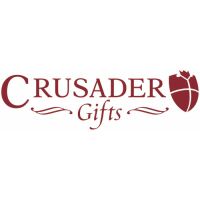 Message on the card inside reads: "For those who share the spirit of friendship"Height: 13cmSupplier reference: 26011Supplied in a branded gift boxFrom the Willow Tree Angels collection - Willow Tree Angels speak in a quiet way to heal, comfort, protect and inspire."Somehow our pets sense, they just know - how we feel and totally accept us, in whatever emotional or physical state we appear. They teach us about friendship, patience and inner peace. They support us with loyalty, softness, an independent spirit and expressive gaze. It is true that animals have a sixth sense. It is the sense of love, unconditionally." - Susan Lordi An ideal gift to celebrate friendships - Especially nice for pet lovers!
About Crusader Gifts:
Crusader Gifts is a family owned online gift shop, supplying quality gifts for all occasions.
Visit Product Page
Phone:
0115 940 6060
Email:
webmaster@crusader.co.uk
Location:
Oxford House
18 Easthorpe Street
Ruddington