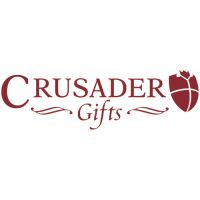 Message on the card inside reads: "Love, pure and simple"Height 13.5cmSupplier reference: 26080Supplied in a branded gift boxFrom the Willow Tree Angels collection - Willow Tree Angels speak in a quiet way to heal, comfort, protect and inspire."This piece was directly inspired by the model. A young girl who struck this pose that just captivated me. It was a gesture where her whole body communicated, not just her arms and her head, but her shoulders, back, and the way she shifted her weight, her whole being emanated happiness from within. So I tried to capture some of that, the happiness or inner contentment that comes from knowing you are truly loved. I wanted to give her an aura, so I made a lacy pierced metal crown, tiara, halo - whatever you want to call it, I think it makes her uniquely angelic." - Susan Lordi An ideal birthday, wedding, anniversary or Valentine's Day gift that expresses love and caring.
About Crusader Gifts:
Crusader Gifts is a family owned online gift shop, supplying quality gifts for all occasions.
Visit Product Page
Phone:
0115 940 6060
Email:
webmaster@crusader.co.uk
Location:
Oxford House
18 Easthorpe Street
Ruddington