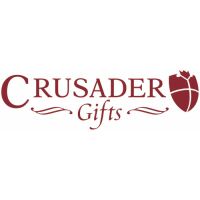 Message on the card inside reads "Seek, explore, discover" Height: 10cm Supplier reference: 26197 Supplied in a branded gift box Susan Lordi was inspired to produce the Willow Tree Quest Figurine by her son, who at the time was immersed in the research and documentation of other cultures. "The idea of the figure is to portray that time in someone's life when he finds something that he is passionately interested in - and begins to pursue it, independently, with no parental prodding. He's 'into it'. It's the love of learning for learning's sake." - Susan Lordi Quest represents when a young person (or really, any age person) is motivated by his own interests and goals and could be a birthday gift or graduation gift, or a thank you gift to a teacher/mentor who may have sparked an interest in a young mind.
About Crusader Gifts:
Crusader Gifts is a family owned online gift shop, supplying quality gifts for all occasions.
Visit Product Page
Phone:
0115 940 6060
Email:
webmaster@crusader.co.uk
Location:
Oxford House
18 Easthorpe Street
Ruddington