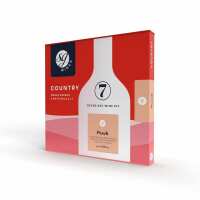 Solomon Grundy – Country Fruit Wines
A medium Sweet, deliciously scented smooth summery wine with soft ripe fruit flavours. Great served chilled as a dessert wine.
These kits produce fruit wines, 6 bottles of medium to medium sweet, in just 7 days. With the addition of sugar (not included) you'll produce a wine between 10.5% - 12.5% ABV. General Information They are available in Apricot, Black Cherry, Cherry, Elderflower, Peach and Strawberry flavours, all of which produce 1 gallon of great wine (6 by 75cl bottles) in just 7 days & they continue to improve if left longer.
About Love Brewing:
Whether you are making, wine, beer, cider, or spirits & liqueurs, we have everything you need to get the best possible results. From our top-rated Wineworks, Beerworks and Ciderworks Kits, to the full range of Still Spirits flavourings, yeasts and equipment, we have the right kits and equipment for you, whatever your interest and experience.
Visit Product Page