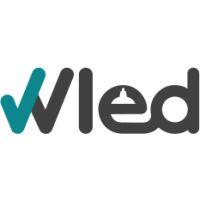 Start to scale the depths of smart technology with our Mirrorstone Wi-Fi RGB Controller.
It allows you to control your RGB colour changing LED strip lights using your smartphone or tablet using the FreeColor app from both the App Store and Google Play.
Instructions on how to set this up are included with the controller. Alternatively, you can also use the supplied remote. This works via radio frequency, so it can be used in a different room to where your strip lights are actually located, and has a range of up to 20m.
Whichever control method you decide to use, you'll have a range of functions available to you. These include up to 16 different colours, speed and brightness settings.
It runs on 3 x AAA batteries, and has a max load of 144W or 288W, depending on what voltage your RGB strip lights are – 12V or 24V respectively.
Once set up, the black finish helps give it a subtle look, ensuring all the attention remains on your strip lights. This is aided by its relatively small dimensions – just 28 x 108 x 63mm.
It is worth knowing that this Wi-Fi RGB controller ships for free, and that you could also save up to a further 20% off selected items using our discount and promotional codes page.
A Strip Light To Control
You may want to check out our range of RGB LED strip lights, as they are compatible with our featured Wi-Fi controller.
Of the 2 that we sell, we would really recommend the 14.4W RGB Colour Strips. It shines with a brightness of anywhere between 330 to 1020 lumens. This gives it great potential when used with our controller due to the range of brightness.
Otherwise, it only uses 14.4W of power per metre, and has a lifespan of up to 50,000 hours – so the experimentation and fun can continue for years!
For those that don't plan on downloading the FreeColor app or don't have the means to do so, you may be better off buying the RF Controller with 20 Key Remote Control.
It has largely the same functionality as our Wi-Fi variant, but also has higher wattage capacities, so it's more capable with larger lengths of strip light.
Make sure you check out all our RGB controllers so you can ensure you're getting the best possible set up.
Helping You Every Step Of The Way
If you find that you need to return your RGB controller for whatever reason, you can get a full refund or exchange at any point during our 28 day home trial period.
You'll also receive a 2 year warranty courtesy of Mirrorstone, giving you extra security further down the line.
Send us an email at cs@wled.co.uk, or give us a ring on 0116 321 4120 if you have any further queries about this item, other LED strip controllers that we sell, installations, wholesale orders or anything else.
Visit Product Page
Phone:
0116 321 4120
Email:
cs@wled.co.uk
Location:
Unit 1A, 20 Devonshire Road