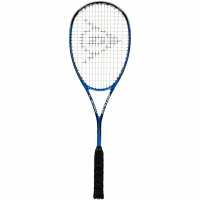 "Build to deliver more accuracy and dexterity while moving confidently all-around the courts, the Dunlop Precision Pro 130 Squash Racket is the perfect choice for players who appreciate greater control and comfortable feel on every swing and rebound. Including a light weight with 130g (4.5oz) and head light balance, the racket allows for augmented movement of the frame in all directions with increased speed and strength, plus the 72.8in2 (470cm2) large head ensures more forgiveness on off-centre shots with more precision and bigger sweet spot. By featuring Glide polymer technology not only the control is better but the power is boosted as well, due to reduced friction between grommet and strings thus enhancing their movement, while the CXMAX technology delivers more elastic power to ensure a lot faster head, therefore swifter and more powerful strokes. The racket comes strung with Great White 17G string in a 14 x 18 pattern and has a premium graphite frame ensuring more durability for longer and furthermore, it arrives in a safety full-length cover."
About Sweatband.com:
We are Sweatband.com - Your no.1 sports superstore!
For over a decade we've been selling sports and fitness equipment through both our website and our central London showroom.
We are a Google Certified store, which means Google confirm that our customer service is of the highest level and we despatch orders with the utmost reliability. But we're not just online! Come and find us in our showroom near Oxford Circus and talk to one of our specialist advisors.
We strive to offer our customers the best, most competitive possible deals online.
Visit Product Page
Phone:
020 3773 3940
Email:
support@sweatband.com
Location:
94 Cleveland Street