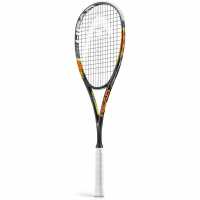 "The Head Graphene Xenon 135 squash racket provides a great combination of control and touch not only for normal rallies, but also for deceptive shots, which made it a weapon of choice of such players like Karim Darvish. The racket has a 71.3in2 (460cm2) head and a closed throat design ensuring improved control. It is head heavy balanced to deliver extra power, stability and spin and comes strung with the Evolution Pro string for excellent control and touch. The racket features the Graphene technology which enables the players to generate more power with less effort and the YouTek technology which is able to sense the needs of the players during different strokes to bring out the best in them."
About Sweatband.com:
We are Sweatband.com - Your no.1 sports superstore!
For over a decade we've been selling sports and fitness equipment through both our website and our central London showroom.
We are a Google Certified store, which means Google confirm that our customer service is of the highest level and we despatch orders with the utmost reliability. But we're not just online! Come and find us in our showroom near Oxford Circus and talk to one of our specialist advisors.
We strive to offer our customers the best, most competitive possible deals online.
Visit Product Page
Phone:
020 3773 3940
Email:
support@sweatband.com
Location:
94 Cleveland Street