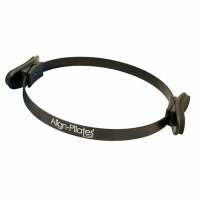 "The Fitness Mad Studio Pro pilates ring is a professional training aid based on the original Magic Circle design. It helps target specific muscles and thus makes toning faster. The ring is a great way to challenge inner and outer thighs, upper arms, the chest and even the pelvic muscles. This smaller version of the ring has a 12'' (30.5cm) diameter and offers a greater resistance when compared to a bigger 14'' model. It has a sturdy tri band sprung steel construction that can easily withstand a very intensive studio use and is fitted with convenient to use soft TPE double handles."
About Sweatband.com:
We are Sweatband.com - Your no.1 sports superstore!
For over a decade we've been selling sports and fitness equipment through both our website and our central London showroom.
We are a Google Certified store, which means Google confirm that our customer service is of the highest level and we despatch orders with the utmost reliability. But we're not just online! Come and find us in our showroom near Oxford Circus and talk to one of our specialist advisors.
We strive to offer our customers the best, most competitive possible deals online.
Visit Product Page
Phone:
020 3773 3940
Email:
support@sweatband.com
Location:
94 Cleveland Street