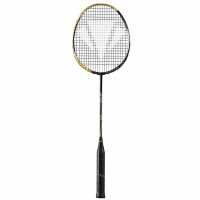 "The Carlton Vapour Trail Elite weighs 90g (3.2oz) and is head heavy balanced for more power, stability and spin. It features an Optimetric head shape for excellent air speed and control. The racket is strung with the X-elerate 67 string for unsurpassed durability and offers a 22 x 22 string pattern. It is constructed of Japanese HM Carbon and incorporates the Bi-Axial Dynamics for increased swing speed. The Xtreme Tension frame can accommodate 11% higher string tensions compared with conventional frames, while the Direct Fibre Transfer enhances power transfer and sensory feedback. The Vapour Trail Elite also features the Stabilisor Top Cap for greater shot accuracy and control, the Ultra-lite Cap for outstanding playability, and the Pro V12 Grommets resulting in increased power across the hitting zone."
About Sweatband.com:
We are Sweatband.com - Your no.1 sports superstore!
For over a decade we've been selling sports and fitness equipment through both our website and our central London showroom.
We are a Google Certified store, which means Google confirm that our customer service is of the highest level and we despatch orders with the utmost reliability. But we're not just online! Come and find us in our showroom near Oxford Circus and talk to one of our specialist advisors.
We strive to offer our customers the best, most competitive possible deals online.
Visit Product Page
Phone:
020 3773 3940
Email:
support@sweatband.com
Location:
94 Cleveland Street