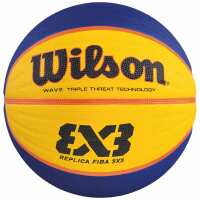 "The Wilson FIBA 3x3 replica game is a size 6 basketball made for play on both outdoor and indoor courts and on all types of playing surfaces. This is a replica of the FIBA 3x3 game basketball and features the Wilson logo and strong, appealing blue and yellow colours. Wave Triple Threat technology gives the ball a more grooved and contoured surface which makes for superb levels of control, particularly outdoors where dirt can otherwise hamper your grip. The pebbled channels also help to improve your grip and handling and the Pressure Lock Bladder serves to keep optimal pressure inside the ball by locking air in. It's made with a 100% rubber cover that is durable and suitable for play on all court types."
About Sweatband.com:
We are Sweatband.com - Your no.1 sports superstore!
For over a decade we've been selling sports and fitness equipment through both our website and our central London showroom.
We are a Google Certified store, which means Google confirm that our customer service is of the highest level and we despatch orders with the utmost reliability. But we're not just online! Come and find us in our showroom near Oxford Circus and talk to one of our specialist advisors.
We strive to offer our customers the best, most competitive possible deals online.
Visit Product Page
Phone:
020 3773 3940
Email:
support@sweatband.com
Location:
94 Cleveland Street