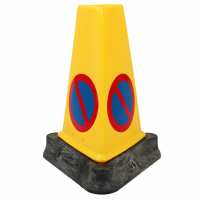 No Waiting Cone MK5 We think that this triangular no waiting cone is the best on the market - The MK5 from JSP is a further refinement to the traditional no waiting cone making it better than ever before. No waiting cones are normally used for preventing unwanted parking during public events and in construction areas. Recessed, fully regulations compliant 200mm No Waiting Symbol on three sides.Extremely stable and sturdy design.Ideal for preventing unauthorised parking.100% recycled base with a UV stable Polyethylene yellow top. When ordering 200 or more, we can emboss these cones with your company name or logo - Please phone us for a quotation for this. Why choose this No Waiting Cone?Whilst many no parking cones are similar, this cone is produced using a blow moulding process that gives it unrivalled quality and consistency.No waiting symbol has 2 year UV stabilisation.Recessed no waiting symbol to reduce damage if knocked over.Hand grips underneath for easy stacking / unloading. Applications Events where car drop offs and pick-ups need to be managed.Clearing curbs before, during and after street cleaning or resurfacing.Hotel and Airport drop off points.Managing traffic outside of Schools.Reserving parking spaces in almost any application. Want to know why this is the best No Waiting cone? Click here to read our blog post on it.
About Start Traffic UK:
We are a Midlands based traffic management distribution company who take pride in our friendly and flexible service.

Whether you are trade or a sole trader, we offer quick delivery, unmatched quality and low prices nationwide!

We offer the complete package, aiming to save you both time and money.
Visit Product Page
Phone:
01905 794875
Email:
admin@starttraffic.uk