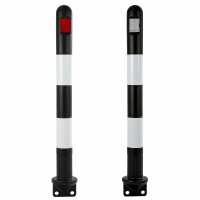 JSP Churchill Verge Post The Churchill bollard is a plastic blow moulded verge maker from JSP. The Churchill verge marker is easy to install and hard wearing. It is made from a quality UV stabilised plastic and will, therefore, last longer than other products on the market. The bollard will not shatter when impacted and has the appropriate reflectivity to conform to RI EN12899-1 Class R2. These bollards are suitable for installing on verges, parking areas and even pavements. They are most commonly seen on country lanes where hard corners are present. Each bollard features a red and a white main reflector at the top. These are placed so that the red reflector is on the near side of the road (passenger side). The white reflective areas around the main body of the marker further boost visibility. Easy Installation The Churchill is easy to install, requiring only a small excavation for each post to be positioned into. This excavation can then be backfilled with either soil or concrete. To further enhance the durability of installation rebar can be placed through the two eyelets at the base of the Churchill marker. Key Features Stands 112cm above the ground Can be cast in or simply backfilled with soil Requires an excavation at least 41cm deep by 30cm for proper installation Suitable for everything from highways to car parks and everything in between Need assistance finding the right verge post? We are here to help! As one of JSP s leading traffic product distributors, we have access to the Wychwood marker and churchill marker from stock, as well as other marking systems. So if you have any questions please call us on 01905 794 875 and our team will help you find the right product for your needs.
About Start Traffic UK:
We are a Midlands based traffic management distribution company who take pride in our friendly and flexible service.

Whether you are trade or a sole trader, we offer quick delivery, unmatched quality and low prices nationwide!

We offer the complete package, aiming to save you both time and money.
Visit Product Page
Phone:
01905 794875
Email:
admin@starttraffic.uk